Tracer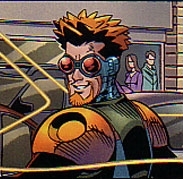 Attributes
| | |
| --- | --- |
| Eyes: | Glowing red |
| Features: | Spiked reddish hair and red lens goggles. |
| Hair: | Red/brown |
| Height: | Unknown |
| Weight: | Unknown |
Powers
| | |
| --- | --- |
| Abilities: | Mental control over seemingly all mechanical or machine based devices no matter how simple or elaborate. |
| Equipment: | Analysing sensors can protract from fingertips that puncture a persons flesh to gain DNA samples. This can then be used to track subjects. |
| Limitations: | Although his strength level is unknown he is also seemingly limited in hand to hand combat, and can be reasonably easily outmatched in this area if cornered. |
| Powers: | Unknown. |
| Strength Level: | Unknown. |
| Weapons: | Any machine once under his control can be used to turn an attack towards his enemy in various ways. Traffic lights can be overridden to slow or halt traffic and even mere bullets can become homing slugs locked on their target. |
Summary
| | |
| --- | --- |
| Citizenship: | Unknown |
| Created By: | |
| Current Aliases: | Unknown |
| Current Occupation: | Dead? |
| Dual Identity: | Unknown |
| Education: | Unknown |
| Former Aliases: | Unknown |
| Former Bases: | N.Y.C. |
| Former Occupation: | Super villain |
| Known Allies: | Unknown |
| Known Confidants: | Unknown |
| Known Relatives: | Unknown |
| Legal Status: | Unknown |
| Major Enemies: | Spider-man, New Avengers. |
| Marital Status: | Unknown |
| Place of Birth: | Unknown |
| Real Name: | Unknown |
| Usual Bases: | N.Y.C. |
Background
Spider-man first encountered bad guy Tracer while he was holding up a bank downtown. Inside the bank Tracer boasted of how he had caused a massive road block by taking control of the traffic lights thus stopping the police reaching him in time, though he hadn't counted on Spider-Man showing. Upon stepping outside to meet Spider-Man he fired two bullets at the web slinger that tracked their target like homing missiles. After clocking up a few blocks trying to escape the bullets Spider-Man decided to stand his ground and attempt to catch them both his hands. He caught one but the other pierced his shoulder.
Soon Spider-Man caught up with Tracer, who now perched atop a flying device which he claimed contained a bomb he would detonate unless the city paid him off. Just as it looked like Spider-Man was getting the situation under control Iron Man showed up to help out before turning the attack towards Spider-Man. Unbeknown to the spectators below Tracer was actually overriding Starks control of the armour and using it as a weapon of his own. Iron Man soon managed to regain control and with Spider-Man's help deactivated the bomb as Tracer's airborne ride crashed to the ground and he escaped once more.
The following night Tracer infiltrated Avengers HQ with an aim to kill Spider-Man. Using his powers to cause chaos in the city, he hoped to slow any possible Avengers showing at Stark tower. Inside Tracer spoke with Aunt May. Claiming to be a reserve Avenger named 'Tommy' assigned to CCTV for the night, he explained that he was a 'machine god' created by the artificial intelligence of other machines. Boasting that the longer he operates the greater his control over mechanical devices.
Spider-Man soon showed and pounced on Tracer- quickly getting the better of him in a hand to hand combat situation. During the fight Tracer analysed Spider-Man's DNA concluding that he was too weak to pose a threat. (This was taking place while Peter was being hunted by a resurrected Morlun. The disease and Morlun both managed to kill Pete.) Tracer then vowed to instruct his machine minions to step down and restore order in the city for the time being. While choking him with some web lines Tracers flesh liquefied and melted from his body, revealing a metallic core.
Appearances
| Cover Date | Appearance Information |
| --- | --- |
| Dec 2005 | App: Friendly Neighborhood Spider-Man #1 |
| | Holds up bank, escapes Spider-man |
| Dec 2005 | App: Marvel Knights: Spider-Man #19 |
| | Battles Spider-man and Iron Man |
| Dec 2005 | App: Amazing Spider-Man (Vol. 1) #525 |
| | Fights Spider-man, shuts down in battle |
Thanks To
The assistance of the Marvel Chronology Project is gratefully acknowledged.
Some of the above information is extracted from the various versions of the Official Handbook to the Marvel Universe and the more recent Marvel Encyclopaedias.