Cyclone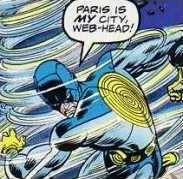 Attributes
| | |
| --- | --- |
| Eyes: | Blue |
| Features: | Corny French Accent |
| Hair: | Never Seen |
| Height: | 5' 11" |
| Weight: | 195 lbs |
Powers
| | |
| --- | --- |
| Abilities: | Technically brilliant |
| Equipment: | Wind generating equipment |
| Limitations: | Chooses inappropriate drinking establishments |
| Powers: | Power to generate winds up to Cyclone force |
| Strength Level: | Normal |
| Weapons: | Wind |
Summary
| | |
| --- | --- |
| Citizenship: | French |
| Created By: | |
| Current Occupation: | Deceased |
| Dual Identity: | Secret |
| Education: | Presumably Ph.D. |
| Former Bases: | France |
| Former Groups: | Maggia |
| Former Occupation: | NATO Engineer |
| Known Allies: | His Criminal Gang |
| Legal Status: | Criminal Record |
| Major Enemies: | Spider-Man |
| Marital Status: | Unknown |
| Place of Birth: | Lyons, France |
| Real Name: | Unknown |
| Usual Bases: | New York |
Background
Formerly an Engineer for NATO, Cyclone had a falling out with his former employees, supposedly related to political decisions over implementing his research, based on the development of a wind-generating weapon.
Cyclone took his invention, and used it for his own criminal ends, developing his Cyclone costume and other weapons.
Like many criminal masterminds in Spider-Man comics, he decided to form a gang and capture Robbie Robertson and J. Jonah Jameson. (Jameson was in Paris to escape accusations from Daniel Berkhart that he had worked with the criminal. Robertson was in Paris to deliver the ransom money for JJJ's safe return.) Like so many criminal masterminds who follow this plan, he was defeated by Spider-Man.
He was subsequently employed by the Maggia, and was doing relatively well for himself (in spite of a subsequent defeat at the hands of Spider-Man), when he was in the wrong place at the wrong time, and met his death at the hands of Scourge.
The Cyclone should not be confused with Cyclone II (Pierre Fresson) from Thunderbolts.
Appearances
| Cover Date | Appearance Information |
| --- | --- |
| Apr 1975 | App: Amazing Spider-Man (Vol. 1) #143 |
| | First story and origins. |
| Sep 1978 | App: Spectacular Spider-Man (Vol. 1) #22 |
| Oct 1978 | App: Spectacular Spider-Man (Vol. 1) #23 |
| Jul 1986 | App: Captain America (Vol. 1) #319 |
| | Dies, killed by The Scourge |
Thanks To
The assistance of the Marvel Chronology Project is gratefully acknowledged.
Some of the above information is extracted from the various versions of the Official Handbook to the Marvel Universe and the more recent Marvel Encyclopaedias.