Superman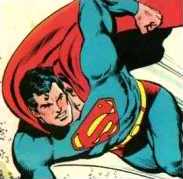 Attributes
| | |
| --- | --- |
| Eyes: | Unknown |
| Features: | Wears glasses in secret identity |
| Hair: | Black |
| Height: | Unknown |
| Weight: | Unknown |
Powers
| | |
| --- | --- |
| Abilities: | Skilled reporter and detective, super-intelligent. |
| Limitations: | Relies on radiation from a yellow sun for his powers, vulnerable to Kryptonite. |
| Powers: | Heat, X-Ray, telescopic, and microscopic vision, flying, super-strength, super-speed, invulnerability. |
| Strength Level: | Formerly Cosmic, currently enhanced human. |
Summary
| | |
| --- | --- |
| Citizenship: | Illegal Alien |
| Created By: | Jerry Siegel, Joe Shuster |
| Current Aliases: | Clark Kent |
| Current Occupation: | Reporter |
| Dual Identity: | Secret |
| Education: | University Educated |
| Former Bases: | Smallville |
| Former Groups: | Justice League of America |
| Former Occupation: | Reporter |
| Known Allies: | Batman, Justice League, etc. |
| Known Confidants: | Wife |
| Known Relatives: | Wife, Lois Lane |
| Legal Status: | No criminal convictions |
| Major Enemies: | Lex Luthor, etc. |
| Marital Status: | Married |
| Place of Birth: | Another planet |
| Real Name: | Kal-El |
| Usual Bases: | Metropolis |
Background
Spider-Man and Superman have met twice to date, the first time to battle Dr. Octopus and Lex Luther in a Marvel Treasury Edition entitled Superman vs. The Amazing Spider-Man. The story was named "The Battle of the Century!".
They subsequently joined forces to defeat the combined might of Dr. Doom and Parasite in Marvel Treasury Edition #28.
Appearances
Thanks To
The assistance of the Marvel Chronology Project is gratefully acknowledged.
Some of the above information is extracted from the various versions of the Official Handbook to the Marvel Universe and the more recent Marvel Encyclopaedias.